Belladonna Took, the mother of the famous hobbit Bilbo Baggins, tried ever-so-hard to be the straight-laced, respectable hobbit that she was expected to be, but her straight paths kept getting a little twisted by her sense of adventure. Just like the Belladonna Took who inspired it,  this sock is a straight-laced ribbing with just enough cable twists to keep life interesting.
Belladonna Took is a worked toe-up cabled and features a wide cable that looks great in solids but can hold its own with striping yarns. Cable spacing is far enough apart keep it interesting while still being simple enough for a relaxing knit for travel or TV watching. Great for guys or gals.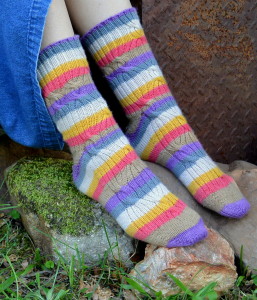 Sock is worked from the toe up with a reversed gusset heel that doesn't require short row wrapping or picking up stitches. Suitable for the advanced beginner to intermediate knitter.  Techniques include Judy's Magic Cast-on or similar provisional cast on, wide cables, short rows without wraps, binding off in ribbing.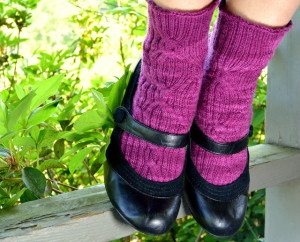 $5.00


on Ravelry