Tuesday Tips – Counting Tips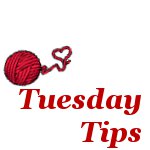 Counting Stitches
When working a cast on for larger projects, it is often necessary to cast on a LOT of stitches. It isn't unusual for a sweater cast on to have more than 200 stitches cast on. These large cast ons are not things you want to do twice so how can you make sure you have enough stitches cast on? Here are a couple of tricks I use.
Stitch markers – Work your cast on in groups of  25, 50, 100 or some other convenient subset of the total number of stitches. When you have cast on 25 stitches, stop and recount the stitches you have just completed. If the count is correct, place a stitch marker after those stitches. Now cast on another 25 stitches, count to the marker to make sure there are 25 stitches between the marker and the last stitch and place another marker. Repeat this process for the total number of stitches.
Split ring or locking stitch markers –  You use these in the same way as stitch markers (counting smaller groups of stitches rather than the total cast on) but with the split markers, you  can remove and replace the marker every time you stop to count so that you don't have a bazillion stitch markers on your needle when you finish the cast on. These markers can easily be repositioned if you find that you counted wrong.  They also will not distort your cast on when working with tight gauges, like a regular stitch marker can.   Alternately, you can mark the stitch rather than the needle. In this way you can count multiple groups of stitches at one time.
Frog-proofing tags – Here is another use for the Frog-proofing tags we talked about last week.  Just slip the string over the needle after you have double checked a section of your cast on and write down how many stitches are in that section. These also are narrow enough that they won't distort the stitches of the cast on by being placed between stitches and can be attached directly to a stitch after counting.
I hope these tips help you when counting your cast on stitches.