This design began with Countess Ablaze's lemons to lemonade story about the distorted idea some businesses have about the value of unpaid "exposure," bless their hearts. When I saw that she was inviting dyers and designers to create with her iconic If I Want Exposure, I'll Get My Tits Out colorway, all to benefit charity, I couldn't resist the challenge. My contribution is Southern Exposure.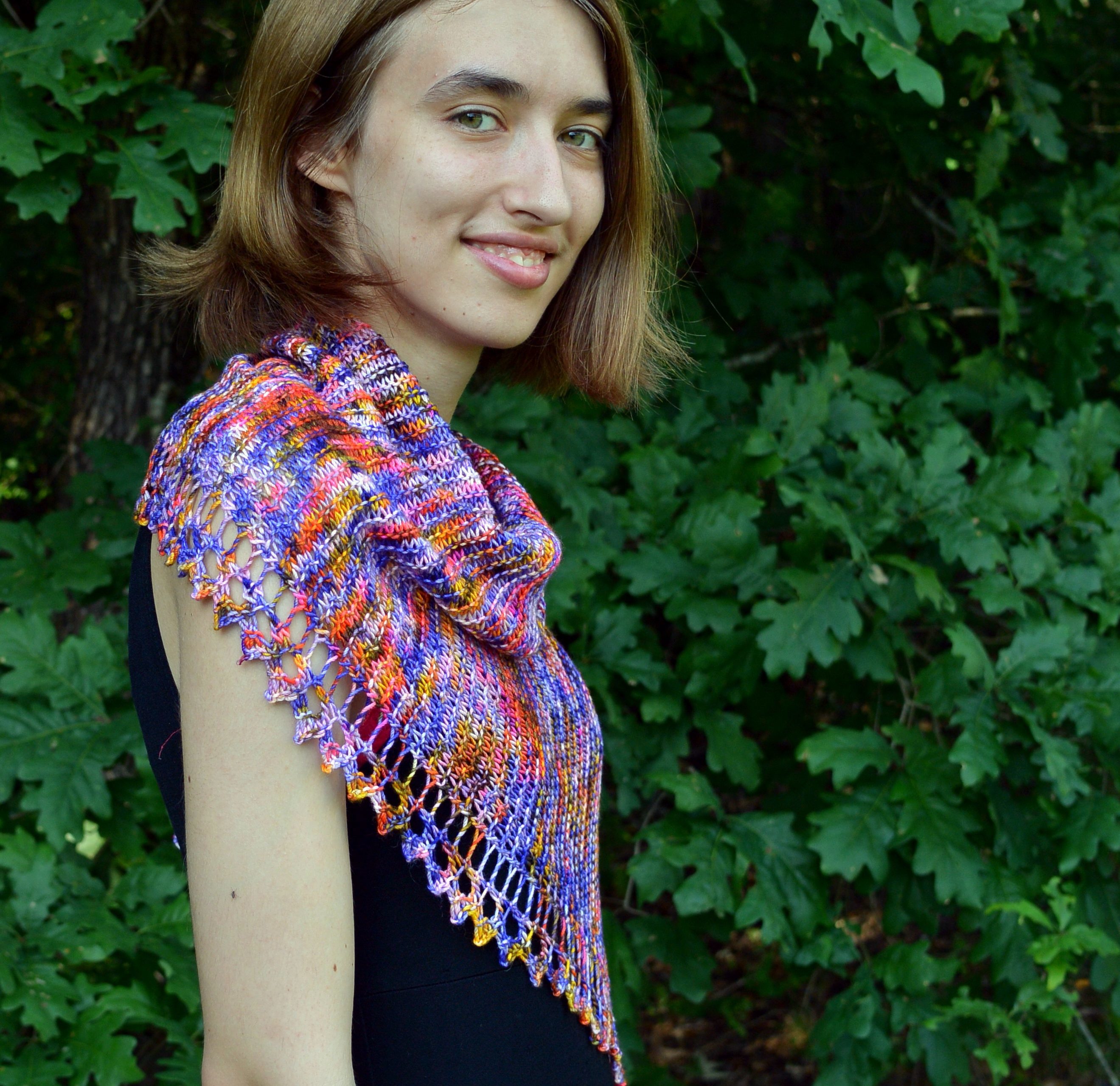 In the south, there are two basic temperatures – indoors and outdoors – and those two are never compatible. If it is hot outdoors (which is most of the time), it's positively frigid indoors. If it is chilly outdoors, it's sweltering indoors. To survive the extremes, we southerners dress in lots and lots of layers. Southern Exposure is the perfect shawl to protect your bits from unwanted exposure of frosty winter days or zealous air conditioning. And the vibrant color is sure to brighten even the bleakest day.
The yarn I choose was Baad Mom Yarns Sporty Mom in If I Want Exposure, I'll Get My Tits Out (And You'll Get a Laugh). I loved working with Melanie on this project. She went above and beyond to get my yarn to me in tome to knit a sample for the design (which was no small feat since the deadline was quite tight). Her yarns are always so rich and saturated and the Sporty Mom base is sproingy and squishy and I am pretty sure I am in love.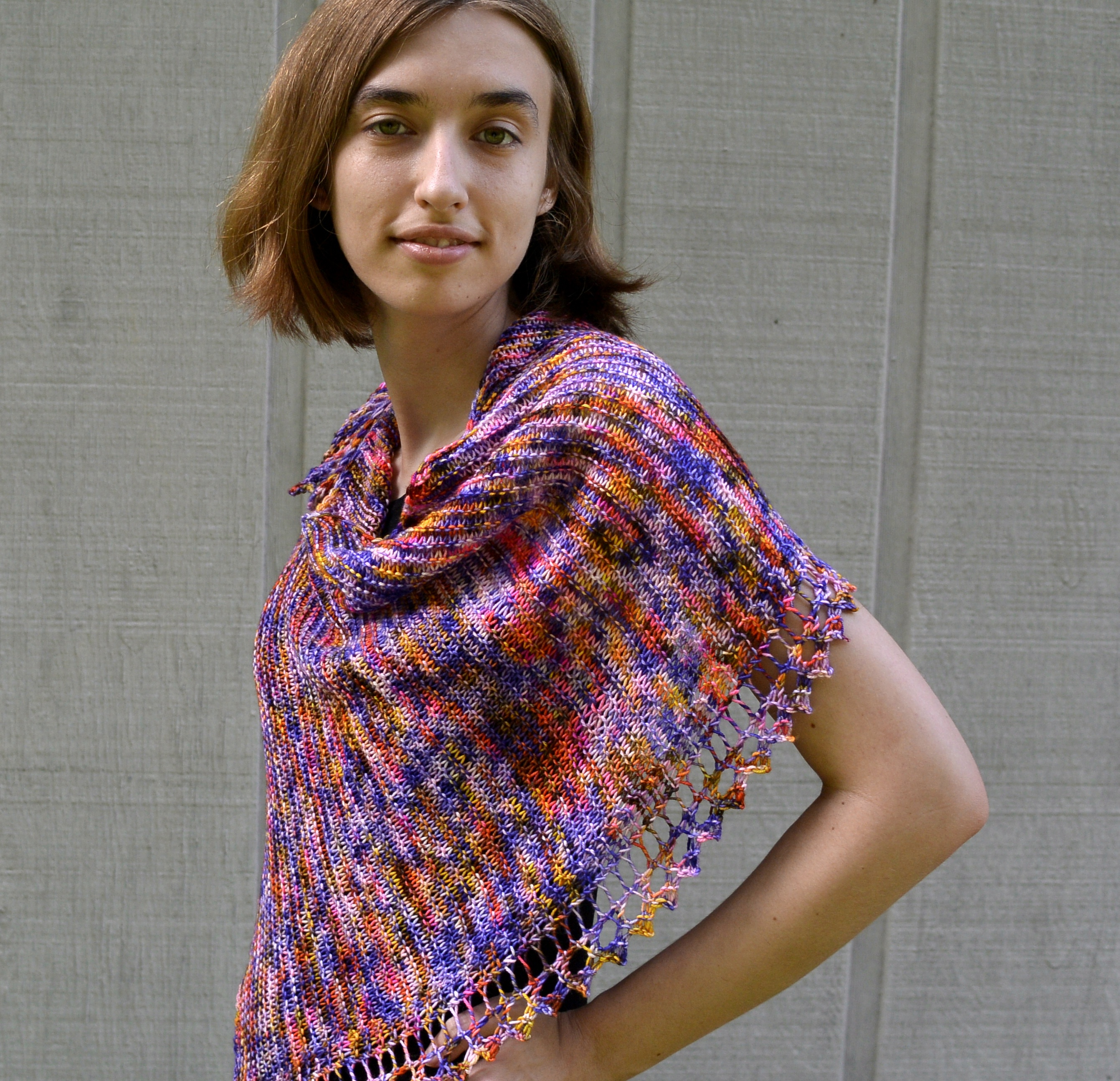 I mentioned earlier that this is part of a charity challenge. The charity I choose if Girls Who Code (girlswhocode.com), an organization whose goal is to bridge the gender gap in technology. They offer classes on coding, host coding clubs, and organize summer immersion camps. I know first hand how difficult it is to work in a male dominated field; the harassment you endure, the unfair pay scale, and the generally hostile working environment for a woman in a "man's" field. I plan to donate a minimum of $1 of every pattern sale from now until June 30, 2019 (1 full year of the pattern's life) to Girls Who Code as well as volunteer my time with the local club.
I designed this pattern with busy yarn in mind.  You will love how the simple stitches allows that gorgeous skein of yarn (you know the one that you can't seem to find the perfect pattern for) to really shine. You will love that this pattern is so adjustable. It works for any yarn weight and yarn length. The pattern includes tips for working with every yarn weight from lace weight to super bulky. You will also find it easy to adjust the depth to your body and preference. You can make the shawl as deep or as shallow as you like. Customizing couldn't be any easier.
Are you an adventurous beginning knitter? You will like the simple shaping and large portions of garter stitch. You can use the simple 4-row lace repeat to learn basic lace knitting or chart reading (both written and charted instructions are included for the edging). It is a fun way to build your skills.  Are you a more advanced knitter? This is a perfect project of TV or travel knitting.  The pattern is easy to memorize so you will find yourself zipping along with the faster than you think. I finished the sample in about 3 days. You will need to following skills for knitting this pattern: basic knit and purl, slip stitches, simple increases (knit front and back) and decreases (k2tog), and a double yarn over (yo2x). In the coming weeks, I will post a tutorial on working with that double yarn over.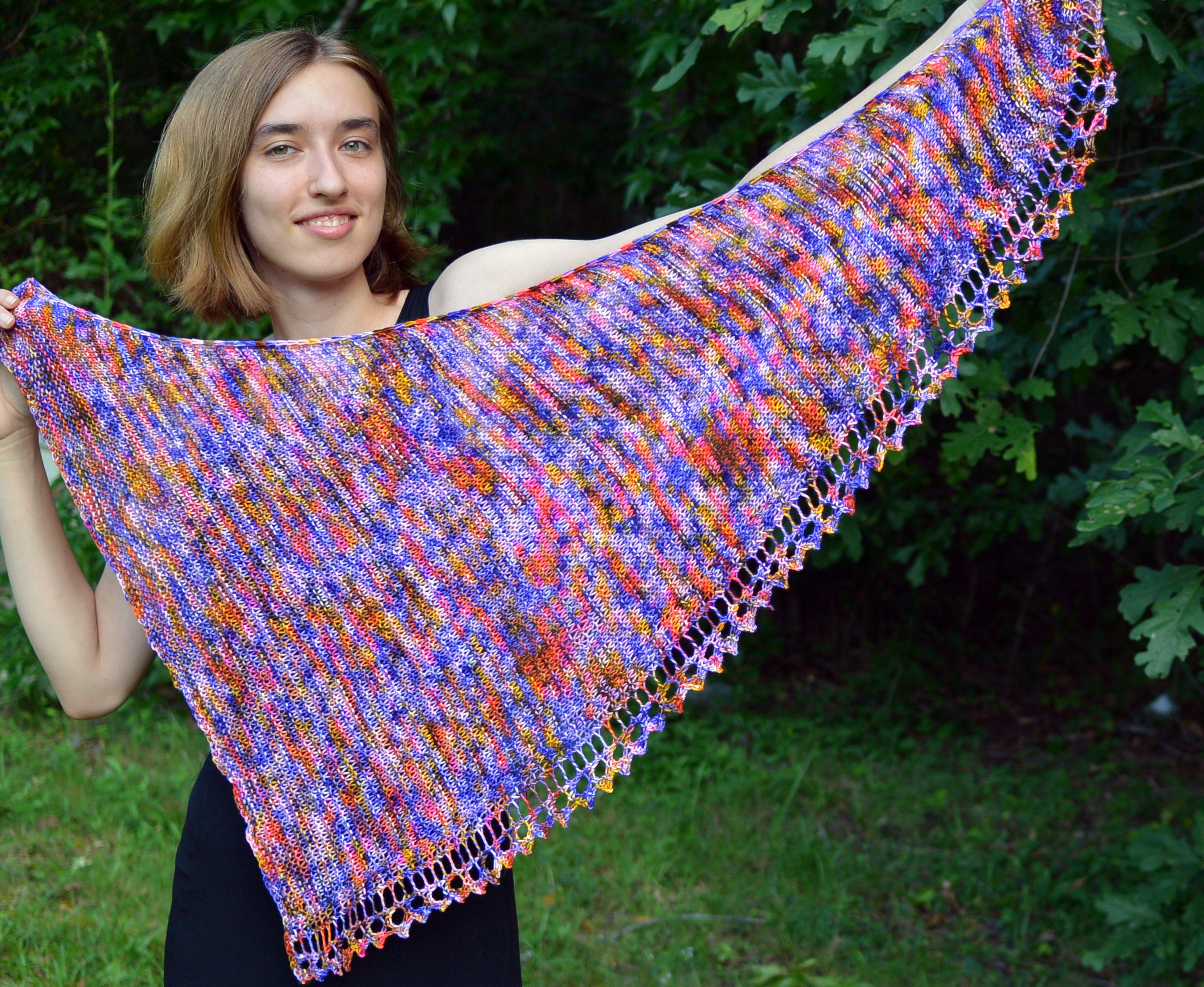 You can get the pattern as a pdf download on Ravelry.  Don't forget to log into your Ravelry account so the pattern will be automatically added to your library.
$4.95  ($1 of which will be donated to Girls Who Code)

add to cart
The pattern will be available on Love Knitting later this week. I will also have print copies available. The print price is $4.95 plus $2.75 shipping so if you would like a copy, contact me.