In which I prove that stubbornness is sometimes a useful trait
I have been trying to learn to spin for years. Every year at Tour de Fleece time, I get the itch to learn drop spindle spinning. This trend started in 2010 when I received a Learn to Spin kit. The kit included a VHS tape on drop spindling, a cheap spindle, and a sample of practice fiber. I also received 4 ounces of hand-dyed roving. Everything I needed, or so I thought.
First Attempts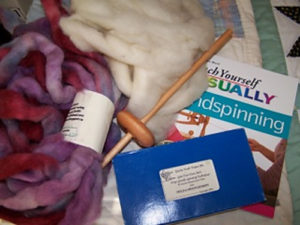 2010 – My first year, I managed to get a small leader made before my yarn started falling apart. I gave up in despair.
2011 – My second attempt was no better. I did learn that one of the reasons I was having trouble was that I was trying to use a top whorl spindle like the bottom whorl demonstrated in the video. Oops.
2012 – The following year I signed up for an official Tour de Fleece team. I even posted a spinning project on Ravelry. I found an Abby Franquemont video on Youtube and managed to make about a yard of fiber. But I was never able to duplicate the results of my first spin. Again, I gave up with only a yard of singles to show for my efforts.
2013-2014 – Embarrassed by my epic failure in 2012, I spent 2013 recovering from the shame. The next year, I bought a copy of Respect the Spindle by Abby Franquement and tried again. This time the fiber kept pulling apart (maybe because it had been sitting around for 4 years). I gave up in frustration again.
2015-2016 – The following years, I hid when I heard the first whispers of Tour de France. I basically avoided the internet for the entire tour so I wouldn't feel the need to try and fail again.
Success finally within reach?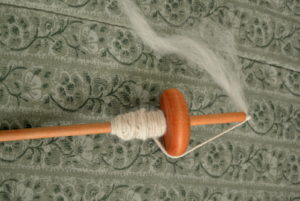 2017 – See? I told you I was stubborn.
This year, being egged on by my fellow officers of Starfleet Fiber Arts Corps, I decided to try it again. I reread Respect the Spindle. I watched the companion video. Abby assured me that 5-year-olds in the Andes could spin. Surely, a college-educated adult with a modicum of knowledge of yarn could figure this out. I purchased new fiber recommended for beginners and set out. The first week was a battle of wills – mine against the spindle's.  (
The first week was a battle of wills – mine against the spindle's.  (the spindle was winning again)  I was finally making something that looked vaguely like yarn but it was inconsistent. The strand size was all over the place-bulky one minute, lace weight the next. I was ready to give up yet again. Then someone mentioned that the spindles in the beginner kits were often too heavy for thinner yarns. Lightbulb! I got some recommendations and ordered a lighter spindle. I plodded away with the boat anchor while waiting for the new spindle, just so I could say I had completed spinning for the day.
New Equipment
My new spindle arrived on Day 9 of the Tour and I promptly gave it a try. My spinning changed almost immediately. With the better balanced and lighter spindle, I was able to spin yarn more consistently. Naturally, I ordered another spindle to mark my second week of spinning.
After two weeks of spinning a little every day, I had gained enough confidence (and was bored enough with white fiber) that I decided to try out the pretty hand-dyed fiber I'd been hoarding since 2010.
Another Setback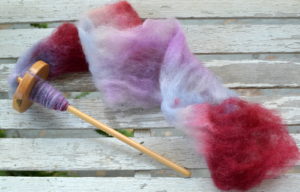 When I tried to pre-draft the fiber, I discovered it wouldn't draft. Abby informed me this usually means that you have your hands too close together. I moved my hands farther and farther apart, pulling on the strand of roving until my hands were at least 3 feet apart. I don't know a lot about different breeds of sheep, but I am pretty sure that there isn't a breed that has a 3-foot fiber length. Something was definitely wrong with my fiber. On closer inspection, I discovered that the fiber had been partially felted during dyeing.
A smart person would have pitched the fiber right then and there. But I am the stubborn type (and since I liked the color of the fiber). So, I asked around to see if there was any solution to this problem. I was told that sometimes fibers can be separated until they can be drafted again. I was so sick of undyed yarn, I decided to give it a go.
To make the yarn, I had to pull the fiber apart width-wise until I could get a piece to pull off. Then I had to go down the length of that piece of fiber pulling it apart and fluffing, turning and fluffing some more,  until the fibers would draft. After that was done, the spinning part began. It required park and draft spinning because the fibers really wanted to cling together. I needed both hands just to draft it. It was a slow and tedious process but the lovely new spindle probably helped my persistence.
She Can Ply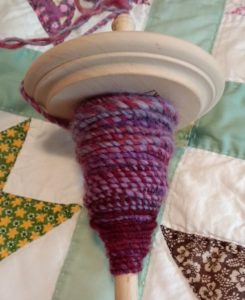 Finally, I had enough yarn spun that I could try plying. I decided this yarn was a good candidate for my first attempt at plying simply because I probably couldn't ruin it any further.  By this time I had acquired a third spindle that was one recommended for plying because of its size. I had transferred the yarn to wooden dowels as I filled my spindle because it was easier than trying to wind balls.  So when I had two dowels with close to the same amount of singles, I built myself a makeshift lazy Kate using a tissue box rather than trying to wind a double strand ball.
Armed with my new Kromski spindle, I set out to ply (without really knowing what the heck I was doing).  Plying turned out to be surprisingly easy, compared to the spinning. I am sure I probably did loads of things wrong but I am happy with my first attempt. Sure, I have a lot of room for improvement but the adventure gave me a ton of knowledge about fiber that I probably wouldn't have gained otherwise, and the result is at least something that I will be willing to knit.