Sometimes my geeky side sneaks out when I am naming patterns. Such is the case with my latest sock pattern. This lacy sock is feminine and a bit flirty with your favorite skirt or dress. The diamond pattern, named for the dilithium crystals that power starships of the future, flatters the curves of your legs.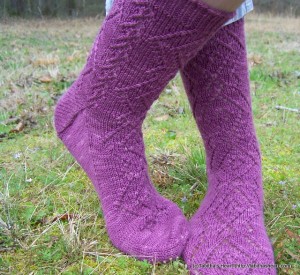 Pattern comes in three versions – mild, spicy and extra-spicy depending on the level of challenge you want in your knitting. Pattern is suitable for the intermediate knitter. Skills needed: basic understanding of top down sock construction and basic lace; chart reading not required but recommended.
Sock will fit most teens and adults. Finished circumference of 8 in/20 cm will fit feet 7.5 in/19 cm smaller to 9 in/23 cm depending on desired snugness. Length is customizable.
$5.00



add to cart