Say hello to the newest addition to the Sockses for Hobbitses Collection.
Bilbo Baggins, though best known as an adventurer, was a hobbit who relished his comforts. He liked things cozy and organized. These socks are comfortable and orderly, just the way Bilbo likes things, but with a touch of adventure, to appeal to his Tookish side.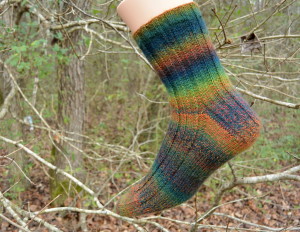 Simple stitch pattern works well with self-striping and variegated yarns and is perfect for that person in your life who doesn't like "fussy" socks. Pattern is easy enough for TV or traveling knitting or for the beginning sock knitter wanting to try something other than basic stockinette stitch socks.
Sock is worked top down with a slipped stitch pattern that is carried down heel flap and edge of gusset. Skills required: basic knowledge of top-down sock construction, slipped stitches, picked up and knit stitches, ribbing, grafting. Suitable for advanced beginner to intermediate knitters.
Special thanks to my tech editor Kate Atherley, to my models cyberman and dragonpurls, and to my testers Carrie, Tracy, Lynn, Barbara, Leigh, and Heather.
$5.00